With you, always.

Shankar Dutt, Patna.
Will always remember you and your smiling face

Tara (Taru), Patna.
Part of me has gone with you, but all of you is with me and always will be.

Muniba, Patna
I knew Papiya not only as a colleague, but also as the daughter of Mr. & Mrs. Ghosh. I had personal knowledge of her as a person and as a scholar and as a Teacher. She should be remembered as a person who combined in herself the best qualities as a Teacher, a Scholar, and a human being. I will miss her a lot.

Yuvraj Deva Prasad,
(Retd.) HoD, History, Patna University.
&
Prof. M.K Mallik,
Prof. Kameshwar Prasad,
Ajoy Kumar Singh,
Ranjan Sinha,
Nawal Kishore Prasad Singh,
Dept. of History, Patna University
It is a loss both to me personally and the whole fraternity of Modern Indian History. Papiya was a great friend, noble Soul and a person who always wished to do something innovative.

Dr. Pramodand Das,
Dept. of History,
Patna University.
Remembering today a rewarding friendship. Love you Papiya. Miss you greatly.

Neera Chandhoke,
C-516, Defence Colony. Delhi.
Will ever remember your forthnight and bold approach in life.

Shashi Shekhar,
Resident Commissioner, Tamil Nadu, Chanakyapuri, Delhi.
This is a serious blow to serious academic pursuit and decent endeavour. Irreparable loss.

Ajay Kumar, I.A.S., 25 Bailey Road, Patna.
A wonderful human being, a great Teacher-compassionate and caring. Deeply mourned. The loss will always be acutely felt!

Sagari Chhabra,
B-5/19, Safdarjung Enclave, New Delhi-29.
Last Wednesday, when you left for the 12:20 class, after a long chat we had, you had said "Sorry to leave you like this". I'll treasure and remember the things that we discussed!

Through me a number of people, some who knew you, and some who did not, have sent their Message. They are:

Prof. V.K Kantha, Mr. Ashok Kantha, your batch mate, Prof. Veena Srivastava, Prabhakar Sinha, President, Bihar, PUCL, Father Robert Athickal

Daisy 'B', you called me that.
Daisy Narain,
Dept. of History, Patna University.
Papiya! I find it difficult to find words to express my feelings of anguish on your most unexpected and shocking departure from our Department. It is indeed, a great loss to all of us. Your presence in the Department was highly inspiring. We shall always miss you a great deal and hope that your memories will continue to inspire us to maintain the academic environment in the Department.

Nihar Nandan Singh,
Dept. of History, Patna University.
It's a big jolt to me personally as she was my batch mate. She is my first batch mate that I have lost. A brilliant teacher, a prolific writer and above all a super human being. Her brutal killing is a colossal loss not only to Bihar academics but all over the nation.

May God give peace to her soul in heaven and let her be re-born to serve the country.

S.K. Poddar,
Dept. of History, B.N. College, Patna.
Remembering her as a devoted, vivacious, student oriented Teacher. Papiya, we miss you. God bless your Soul.

Sr. Mary Beena S.N.D,
Notre Dame School, B.T.P.S Badarpur, New Delhi-110044.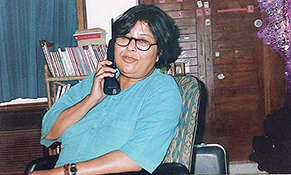 Partition and the South Asian Diaspora – Extending the Subcontinent, Routledge, New Delhi, 2007.

(Review in Economic and Political Weekly, Vol. No. 42 dated November 17, 2007 by Vanita Sharma.( http://www.epw.org.in/uploads/articles/11231.pdf )

Community and Nation : Essays on Identity and Politics in Eastern India, Oxford University Press, New Delhi, 2008.
The Civil Disobedience Movement in Bihar, Manak, New Delhi. 2008.
History in the Vernacular, Edited by Raziuddin Aquil and Partha Chatterjee- In Memory of Papiya Ghosh- Permanent Black, Ranikhet, 2008.
Muhajirs and the Nation- Bihar in the 1940s, Routledge, New Delhi, 2010.
Bihar Mein Savinay Avagya Andolan ( Hindi Translation of Sl 3 above by P L Prajapati), Manak, New Delhi , 2011.
Resurrection of the State- A Saga of Bihar- Essays in Memory of Papiya Ghosh, Edited by Sunita Lall and Shaibal Gupta, Manak Publications, New Delhi, 2013.
NOTE:
ALL PAPIYA'S BOOKS WERE POSTHUMOUS PUBLICATIONS, with support from friends and colleagues, coordinated by her sister, Dr. Tuktuk Ghosh
Books at Sl. 2 & 3 – Above were launched by the then Hon'ble Speaker, Lok Sabha, Shri Somnath Chatterjee, with an Address on "Role of Democratic Institutions in Ensuring Security and Justice for Women", on 8 March 2008, to coincide with International Women's Day at India International Centre, New Delhi
Book at Sl.7 was launched by Nobel laureate, Professor Amartya Sen, at ADRI, Patna on 4th February, 2013