Papiya was an accomplished Academician and a feisty single woman, who was totally committed to the highest principles of integrity, honesty and dedicated service. For the Family and those who knew Papiya well, she will doubtless "BE FOREVER"! Papiya's life, values and contributions are truly inspirational and anything short of a continuing CELEBRATION of it, can never be contemplated.
Profile
Papiya was born on 8th October 1953, at DUMKA (Bihar, India), third of the four daughters of Ujjal Kumar Ghosh, an IAS officer of the Bihar Cadre and Purnima Ghosh. Her father was a victim of, what was widely held to be, a Political Murder, in 1957. She, along with her sisters, was brought up single-handedly by her mother, Purnima Ghosh, who took up a job as a School Teacher after the ghastly murder of her husband.
She was a Topper and the School Head-Girl, earning laurels in Debating, Dramatics, Elocution, Essay-writing etc. The winning trend continued in Patna Women's College. Here, too, she was elected the Premier of the Students' Union and stood out in all spheres. She, with her sister, Tuk Tuk, were the duo who contributed regularly to the 'KOOKIE KOL' Column of JS, a well known Youth Magazine and became a house-hold name, as a result.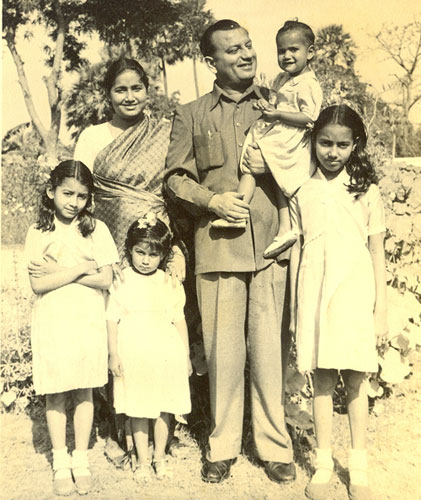 As Patna University was closed down indefinitely in 1975 during JP's Agitation, Papiya moved to Delhi University to pursue higher studies, where she completed her M.A., M.Phil and earned a Doctorate Degree in Modern Indian History. The subject of her M. Phil and Doctorate Degrees was "Civil Disobedience Movement in Bihar, 1930-34".
Papiya taught History at Daulat Ram College from 29 October to 26 November, 1977 and at Hindu College, University of Delhi, from 26.11.1977 to 8.2.1979. Although she had a permanent job in one of the best Colleges of Delhi University, she chose to come back to Patna Women's College. This decision was not only driven by her commitment to provide support to her widowed mother, who was alone (the other sisters having, by then, moved out of Patna), but also because of her abiding conviction that she could contribute actively to the resurgence of Academics and Research in Bihar, which were not receiving proper attention at that juncture for various reasons. In fact the best brains were leaving Bihar, when Papiya took the bold decision to go back there. Papiya devoted 3 decades to her profession to Bihar. Nothing could deter her from her determination to give of her best, in spite of many frustrations and lack of suitable facilities.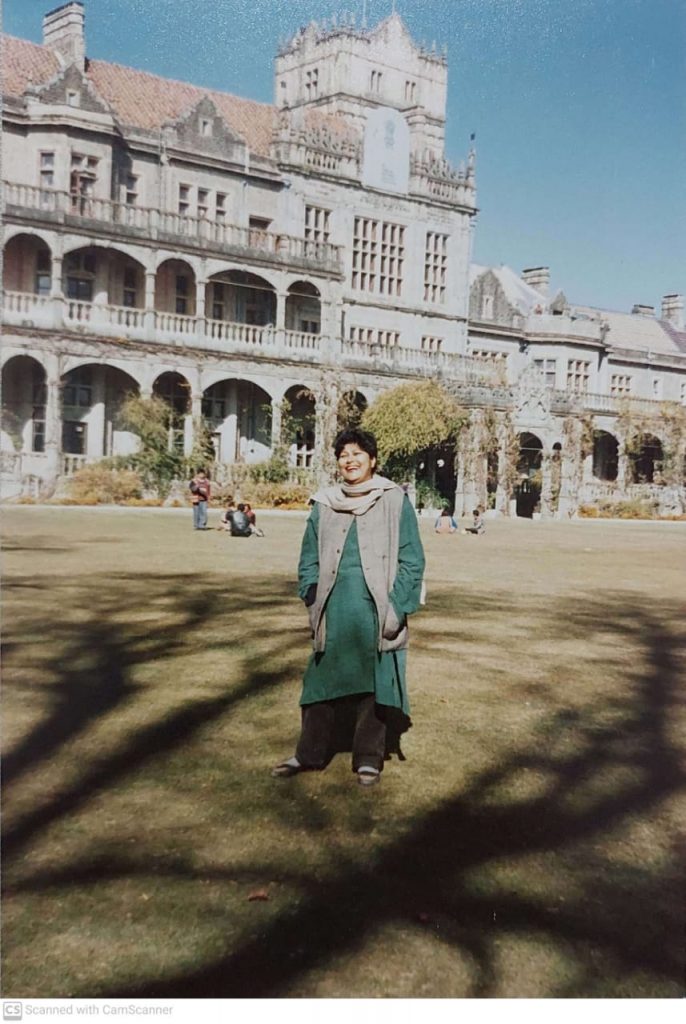 After a tenure in Patna Women's College from 12.2.79 to 30.11.91, Papiya, on promotion, moved to the Department of History in the Patna University, to take Post Graduate classes, as well as to guide, evaluate and conduct research. She brought updated course material to the attention of her students, stocked the Library with the latest publications, often at her own cost and taught in fluent Hindi, which was not her mother tongue or the medium of instruction during her School and College years. That the syllabus of the University was in sync with other Central Universities was Papiya's constant endeavour. Her teaching methodology was also very innovative and she always tried to weave in contemporary themes and ideas to make "History" more relevant for her students. She taught several Papers, though her specialization was Modern Indian History. Patna University, because of various financial problems, often did not pay its Teachers and Staff for several months, but Papiya always kept the flag flying and did not let up on her academic pursuits!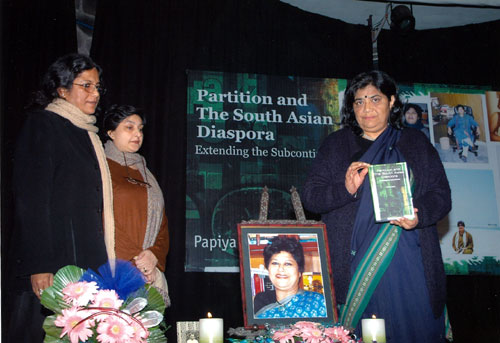 Her Research Subjects related, inter-alia, to impact of Partition, plight of Dalit Muslims, Peoples' Movements, Popular Syncretic Culture, Secularism, Contribution of the Underprived to Political Processes etc. Since she had a penchant for collecting data, she spent much time travelling to remote areas, meeting key sources (within and outside the country), spending her own limited resources. She would devote hours on translation, roping in friends and well-wishers in her endeavours! She also learnt Urdu to be able to do full justice to her Research work.
Papiya published various scholarly Articles in reputed Academic Journals. Her seminal book is entitled, "Partition and the South Asian Diaspora- Extending the Subcontinent". Unfortunately, she did not live to see its formal launch on 1st January 2007. Both the Hon'ble President and Prime Minister of India, who were presented copies of the book, greatly appreciated it.
Prof. Ghosh has brought to bear the force of her intellect on this unique and interesting subject which would prove to be of great value to all those interested in the subject of the South Asian Diaspora. It is unfortunate that Prof. Ghosh is not with us to see the fruit of her efforts in writing this book

President Kalam, in a letter of 3rd January 2007, to her sister, Tuk Tuk
So meticulous was Papiya that she not only acknowledged all her friends in the book but also our domestic support who had passed on several years ago! And as the ever-dutiful daughter, Papiya dedicated her labour of love to her Parents and our "Kaku" (Uncle), Col. Arun Kumar Ghose, who stood by us, rock-solid, in the dark hour of grief after our father's murder, till his death in 1991.
Papiya was a Merit Scholarship holder of Patna University. She was awarded the prestigious Rockefeller Foundation Fellowship (University of Chicago, in 1994 and Triangle South Asia Consortium at the North Carolina State University from 1996-97) as well as the Indian Council of Historical Research and University Grants Commission Fellowships (for M. Phil, Ph.d and Post-Doctoral work), being attached to the Nehru Memorial Museum and Library, New Delhi and the Indian Institute of Advanced Study, Shimla between 1988-91 and 1993-96 respectively. She was Adviser to ADRI (Asian Development Research Institute), Patna and Visiting Scholar at the Centre for Historical Studies, Jawaharlal Nehru University, New Delhi. It will not be an exaggeration to state that she was among the most academically accomplished in the Department of History in Patna University and was often invited to addressed important Seminars and Conferences in and outside Patna, where her insightful inputs were greatly appreciated.
Papiya could have got a befitting assignment elsewhere but she chose to stay in Patna, in an environment which was not the most congenial. Papiya shouldered the entire responsibility after her mother's demise in 1997, without in any way disturbing her sisters. In deference to her mother's memory, she kept the house unchanged and in perfect condition, as she knew what it had meant to her and how much of her life had been invested to make it a beautiful haven and sanctuary for her children
Papiya so looked forward to the visits of her family especially her nephews and nieces, Saurav, Gaurab, Madhur, Jagriti and Snigdha, for whom she was the most lovable and effervescent, "Bumble"! For Manas and Sujit, her "Jijas" (Brothers-in-law) there couldn't be a more worthy sister-in-law! Papiya was ever-ready to move heaven and earth for Jaya, Keya and Tuktuk and was without doubt the world's best sister! She was generous to a fault and treated them royally, making each get-together a truly memorable occasion!
For many years, Papiya kept indifferent health, suffering from chronic asthma. She underwent surgeries, too, which took their toll on her physical well-being. But these impediments could not dampen Papiya's spirits! She used to be called the "Chiragh" (Lamp) of the Family. Her courage and fortitude knew no limits ! She was a true seeker and a "Spiritual Warrior"!
Though a very open, fun-loving, gregarious person, Papiya chose to remain single. The right to choose and decide according to her beliefs was very important to Papiya. She would have said, in her inimitable manner,
Kyon kahte hain ki jeene ka andaz badal de; aur hai hi kya is apne andaz ke siva? (Why should I be asked to change my style? I stand by my style and am proud of it!)

Papiya
It is difficult to come across some one more caring and affectionate than Papiya. She had time for everyone, regardless of age and background, often putting aside her own needs and requirements! She remembered everyone's Birthdays and Anniversaries, even illnesses and took time out thoughtfully for them. Indeed, Papiya was a friend, par excellence and a peoples' person, who touched many lives, so gracefully and unforgettably. For this she will be remembered for very long, with deep love and gratitude!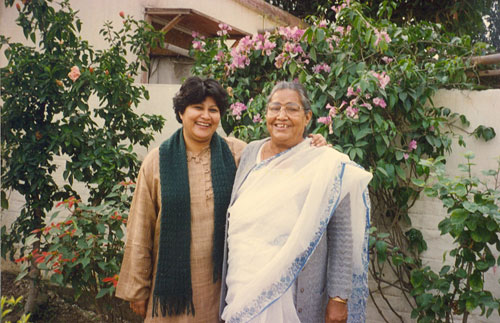 Papiya had a very simple, disciplined life style and combined it creatively with a lofty world view, always exuding radiance and well-being. "Maharani of Kuch Nahin" (Queen of Nothing) is what she used to jokingly call herself! Her way with words and people was simply unbeatable.
Papiya cared for Malti- who was our domestic support for 40 years and was killed with her- much more devotedly than her own children could ever have, in good times and in bad. Such nurturing is indeed unparalleled ! Her every decision was dependent on how Malti would be affected by it. She always made her feel an integral part of the Family. The same held good for all the other supporting staff, who were, without fail, given "Treats" on all Festivals, and other special occasions!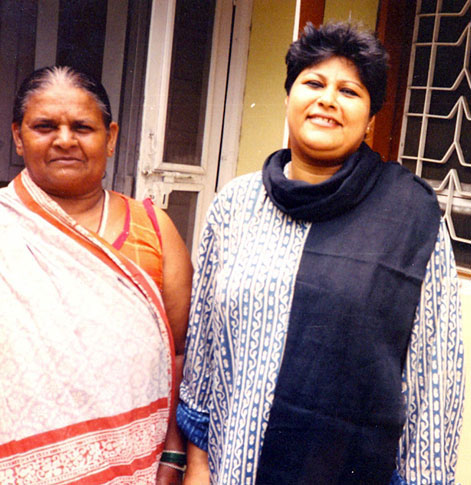 In an almost rapid-fire elaboration, which scarcely does justice to her multifaceted personality, it may be said that Papiya had very wide, eclectic tastes – she loved writing poetry (haiku) and spinning zany descriptors, pampering and spoiling silly, her pet dogs, "Dumroo" and "Tum-Tum," savouring a varied genre of music and a diverse range of books (she had a superb personal Library!), travelling to exotic places, dipping into Mainstream and Offbeat Cinema, culinary experimentation, trying out updated Fitness Programmes, delving into nuances of Sufism and meditation techniques, etc. (one could simply go on and on!)
Papiya was always game to try out new ideas and new looks and she gave herself several interesting make-overs in more senses than one! From one who shunned jewellery and anything even remotely fancy, Papiya lately opted for silk (of course, only khadi) and chunky jewellery, for those moments when she felt she should "liven up!" She indulged herself especially during her trips to Delhi, where she spent quality time to reconnect with her "ruh" (soul) in the serene, beautifully manicured settings of the India International Centre, watching with a sense of peace, the blossoming of the "kachnar" (flowers) from Room 35 and enjoying long walks at the historic Lodhi Gardens next door.
Papiya was so utterly law-abiding, honest, truthful and principled that she would never do anything that even remotely smacked of "irregularity". She would not tolerate anything wrong and always boldly spoke her mind without any fear of likely adverse consequences. People- cutting across all strata and segments of society-have ONLY PRAISE for her distinctive and wonderful personality! She was equally famous for her tough exterior and very soft 'dil' (heart).
Vignettes of the inspirational life of Professor Papiya Ghosh of Patna (India), snuffed out too soon by a cruel crime and for whom justice is still awaited..
WE PLEDGE THAT PAPIYA WILL ALWAYS BE WITH US – AND WE SALUTE HER FOR HER DEEPLY INSPIRATIONAL LIFE !