This is to record our deepest appreciation for demand for justice for Papiya Ghosh, whose promising and well-lived life was brutally snuffed out on 3rd December, 2006 at Patna, by a group of ruthless criminals for no apparent reason! It is also an earnest Request for consecrating her unforgettable memory in a befitting manner !
There are many tough, deeply troubling and complex questions about why the reprehensible crime happened, the way it happened and when it happened – exactly 49 years to the day, when Papiya's father, Ujjal Kumar Ghosh, IAS, was murdered by poisoning in a Govt. Hospital at Patna. Perhaps we will never know the answers!
Papiya was an accomplished Academician and a feisty single woman, who was totally committed to the highest principles of integrity, honesty and dedicated service. For the Family and those who knew Papiya well, she will doubtless "BE FOREVER"! Papiya's life, values and contributions are truly inspirational and anything short of a continuing CELEBRATION of it, can never be contemplated.
We can only consecrate Papiya appropriately by ensuring that the perpetrators of the unparalleled, heinous crime against an innocent, law abiding, upright and honest, professional woman, do not walk away scott-free. In fact, that's the very least we can strive to do, for the future is at stake! The implications for civil society and governance are wide ranging and must be appreciated by all concerned.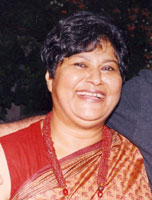 To know more about Papiya and the crime to which she fell a tragic victim and to enable you to lend your support, you are invited to please browse along.
"I questioned the mystic emissary of cosmic law about earthly parting and soundlessly he answered :

" I am the pilot of ever evolving life often mistakenly called Terrible Death. I am thy up-lifter, redeemer, friend, unloader of thy gross burden of body troubles. I come to fetch thee away from the valley of thy broken dreams to a wondrous highland of life, to which poison vapors of sorrow cannot climb.

"I have removed thy soul bird from the cage of flesh attachment. Long imprisonment behind bars of bones madest thee used to the cage, but unwillingly; thou didst always yearn for liberty. Now, cast away fear; thou hast won thine astral freedom !

"O transitory visitor to Earth, re-enter the beauteous skies ! Explore once more thine ethereal home ! "
 
"Whispers From Eternity", Sri Sri Paramhansa Yogananda, 1946, whose deep insights provided much solace and strength to Papiya"