Article Published in The Wire dated 26th Sept 2017
Whenever one hears the famous historian E.H. Carr's remark about history being an 'unending dialogue between the past and the present', one is reminded of an untiring historian, Papiya Ghosh (1953-2006), who did not live to see the traction her works could potentially generate. Her nuanced understanding of the past, and how the past interacted with the present, together with her socially-relevant research canvas – Bihar, Muslims, Partition, communalism, diaspora, nationhood, refugees, citizenship – continues to keep her alive in so many ways.
The making of a historian
Why did Papiya choose such areas of research? The answer perhaps mostly lies in her negotiations with the world of her parents and their experiences. Born on October 8, 1953, in Dumka, Santhal Parganas (a tribal area now in Jharkhand), in a family of bureaucrats, she grew up listening to real-life stories of wars, violence, nation building, Partition, and of the marginalised, dispossessed and minorities. Her father, Ujjal Kumar Ghosh, who had also studied history at Patna University, did a short stint in the army during the Second World War (1939-45), which saw him in action in Quetta, Pakistan, and Myanmar. He would share with Papiya insights related to the brutalities of hostilities and their impact on the ongoing nationalist movement. Thereafter, he joined the Indian Administrative Service and was allotted the Bihar cadre. He worked tirelessly to build the newly-independent nation from the grassroots up, always seeking to bring together strands within communities – especially the minority and marginalised. Tragically, he fell victim to a sinister political plot and was taken away very early in life. His unfinished work inspired Papiya immensely and she vowed to get back to providing a strong, academically-bolstered voice to the less heard, misunderstood and the voiceless as a befitting and enduring tribute to his memory.
Papiya's mother, Purnima Ghosh, shared with her the tragic stories of Partition. Hailing from undivided East Bengal, Purnima was separated from her family and forced to leave all she knew as her own behind, never to go back again. Partition and its violence had left an indelible scar on her consciousness and imagination. Her interactions with Papiya centred around dark narratives of pain and destruction. However, the budding historian wanted to dig deeper – she was determined to understand the historic event in its myriad complexities. Soon, Papiya began to question popular and stereotypical constructions of the minority community. In fact, this was a recurring point of divergence in her discussions with her mother and perhaps, the only substantive one.
While academic pursuits brought her to Delhi – where she did her post-graduation and doctorate, followed by a teaching career at Daulat Ram College and Hindu College – Papiya's research interests saw an efflorescence once she was back again in her field Patna, this time as a trained historian and a restless thinker. Her academic and research skills got further sharpened, thanks to stints with some national and international institutions including Nehru Memorial Museum and Library, Indian Institute of Advanced Study, Jawaharlal Nehru University, and universities in the US and the UK. She began to better understand and articulate the larger dynamics behind historical processes and the connections between the margins and the mainstream – more specifically, how events could have ramifications beyond immediate social and geographical locales.
Region and nation
Papiya was a cosmopolitan intellectual whose research seamlessly and continuously transcended geo-cultural boundaries – she was in Bihar at one moment and out of it in the other. An unabashed Bihar enthusiast, her enduring legacy was to foreground the region's complex interactions with the past and how they impacted a much-larger world. As historian Kumkum Sangari points out, her work moved 'both outwards from and inwards to Bihar'. It examined the 'articulation of nationalist struggles with the political history of Bihar as well as the regional recasting of nationalist politics.' It had 'the depth, immersion and inwardness that characterised the best of regional historiography' but 'none of the parochialness associated with regional history.' Papiya's Bihar was different in other ways as well. It was an intricate amalgam of various elements – community, class, caste and regional politics – and how these intersected with wider nationalist and communal politics. Herein lay the historian's craft as she dexterously peeled off layers of a complex being, completely mindful of their specificities and interdependencies. The fragments were important to her – as were their inter-connections and their relationship with the wider socio-political contexts. In the process of understanding the fragments, she consistently questioned stereotypes or categories considered monolithic.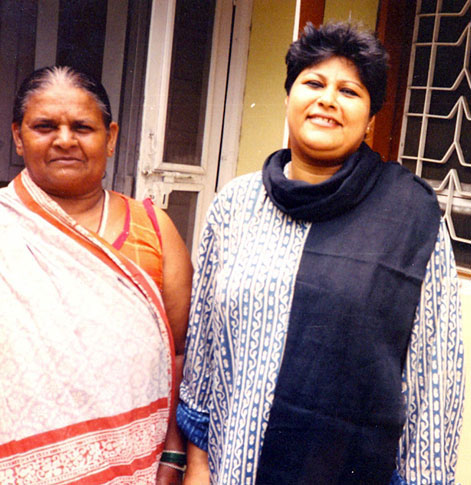 Muslims and the Pakistan movement
Papiya's research on community-oriented formations and politics – anchored in her books, Muhajirs and the Nation & Community and Nation – departed from the existing scholarship in more ways than one. Unlike Punjab and Bengal, where Muslims were in a majority, her research pivoted around Bihar – an area where Muslims remained a minority. She strongly questioned the foundational role of religion in communitarian politics and her canvas highlighted the regional, class, caste and gender dynamics. She also argued against, as late historian Biswamoy Pati points, "the construction of a homogenous and exclusive 'Muslim identity' based on pure and unadulterated Muslim/Islamic consciousness"; instead, she revealed the diversities and pluralities within Islam and Muslims. One manifestation of this was the contestation of the Pakistan movement from within different Muslim groups, particularly the Imarat-e- Shariah and the Momin Conference (MC). Jamiyat al Ulama, for instance, developed a framework of Islamic nationalism directed against imperialism and later against Muslim League's communalism. Her work also brought out the differences and interactions between 'high' and 'low' politics – the Congress and Muslim League vis-à-vis others. Within the Muslims, as the MC argued, this got reflected in the politics of the sharif (upper sections) – best represented by the Muslim League – as opposed to that of razil (labouring men) – whose aspirations were best articulated by the MC. Papiya juxtaposed different kind of politics – those of qaum, mazhab, biradari as well as Hindutva – to interrogate the colonial classification of the putative 'Hindu' and 'Muslim' communities into communitarian identities.
Diaspora, refugees and the making of South Asia
Papiya's work on the Bihari diaspora (The Partition and the South Asian Diaspora) reflected her deeper engagement with ideas of nation-ness, nationhood, denominational homelands and citizenship. The deep-rootedness of partition and diaspora exemplifies the brilliant play of history across time and space. Partition persisted not just across the Indian subcontinent, but at several diaspora sites across the globe, and way beyond 1947 into the recent decades. Her book, however, also delineated how 'partition's refugee histories and two Muhajir formation in East and West Pakistan had their roots in the aftermath of killings of Muslims in Bihar in 1946', several months before the great divide. 'The emergence of Bangladesh', she wrote, 'interrupted this homeland and mapped out huge number of Biharis into the sixty-six refugee camps, where they still languish, awaiting repatriation to Pakistan.' This long wait saw the refugees appeal to the United Nations for refugee status under categories like 'Muslim refugees' or 'Stranded Pakistanis' for the purposes of funds. Such refugees received support from Bihari diaspora in London, New York and Chicago and the subcontinental Jamaat-I-Islami. Many Bihari migrants later deployed their diasporic sites for their redefined and ethnic politics. She showed how, between 1992 and 2002 (Gujarat riots), Muslims and Dalits organisations in the UK and the US contested the idea of Hindu Rashtra based on stereotyping of Muslims around the making of Pakistan. After 2002, many such organisations tried to broadbase their support by forging connections with the Christians, Sikhs, Dalits, feminist and liberal and progressive groups as well as with subcontinental organisations dealing in human rights, peace and democracy.
Diasporic sites, networks and activisms, she argued, were also important at other levels – Partition's minorities including 'Indian Muslims and Pakistani and Bangadeshi Hindus facing subcontinental majoritarianisms' and the 'Hindutva formation aiming at a Hindu Rashtra and/or Akhand Bharat by bonding a Hindu diaspora.' The long-distance remaking of South Asia formed an integral part of the diasporic politics.
Negotiating barriers
Papiya continuously and creatively negotiated barriers in other ways as well – whether it was the disciplinary boundaries or questions regarding periodisation or evidence base, to name a few. She was a historian by primary training but always worked at the intersections of history, sociology, anthropology, politics and what now constitutes migration and diaspora studies. Such an approach naturally widened her evidence base. Books and archives would always be supplemented with field visits, interviews, conversations and solid empirical work. Her research on diaspora also included refugee reports, family histories, archives of diasporic repatriation activists, camp narratives, web exchanges and accounts of asylum-seekers. And, the stories that came out had to be told convincingly but also interestingly. As scholar Jyotirmaya Sharma says: "She needed every detail about colour, texture, smell and sound to be a part of the narration." The idea of periodisation in history made her uncomfortable. She loved the aftermath just as she loved the incident. Her canvas went beyond events/milestones considered sacrosanct by most historians. Should modern history end at 1947? For her, the answer was mostly, perhaps always, no.
Tragically, Papiya was brutally murdered on December 2, 2006 in her home at the dead of night by six armed assailants. Eerily, her father had met his end on the same day, in the same city, 50 years back. Though 11 excruciating years have gone by, justice has still not been delivered. The academic fraternity and others are yet to know why such an intensely committed intellectual had to be silenced in such a macabre manner. With her death, ended a great intellectual journey – a voyage which needs to be adequately mapped in mainstream academic research. Her works remained unfinished, as did her quest. The third book in her planned trilogy will wait forever; in addition to Muhajirs and the Nation and The Partition and the South Asian Diaspora, she was also working on a third book on Other Backward Classes (OBC) and Dalit Muslims. Her incisive work on gender – particularly how women and their bodies became signifiers of communitarian conflicts – had huge potential. Her forays into popular culture, particularly Bhojpuri cinema and songs, were also nipped in the bud.
Papiya now mostly dwells in footnotes and references; memories of family, friends and well-wishers; and, in the intellectual initiatives of the Papiya Ghosh Memorial Trust. However, her works remain relevant, perhaps more than ever, as India and South Asia grapple with issues of communitarian and identity politics, refugees, hangovers of Partition and conflicting ideas of nationhood and belonging. Had she been alive, her advice would have remained the same – look deeper and holistically; question monolithic assumptions; see the layers and their interconnections; understand the wider socio-political contexts; and, engage creatively.
Shashank S. Sinha has taught history in undergraduate colleges at the University of Delhi. He does independent research on tribes, gender, violence, culture and heritage. Tuktuk Ghosh is a retired IAS officer with a deep interest in modern Indian history. She also comments on and analyses contemporary governance-related issues.